Initiatives
Crime trends and EPD's Work to Address Them
Troubleshooting Crime Hubs & Hot Spots
What is a neighborhood to do when a home becomes a hangout for people engaged in criminal activity? Or when there is a crime spree, such as a series of burglaries or car break-ins?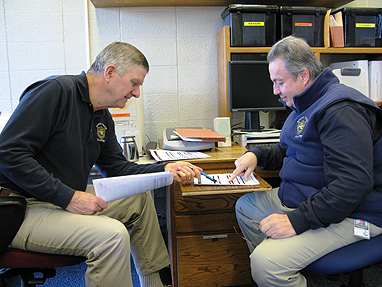 Data Led Policing - There are a variety of new resources and methods EPD is using to interrupt crime cycles. Data Led Policing is a key strategy. During 2012, EPD continued to focus officers, detectives, crime prevention specialists and other staff on crime hot spots, working with residents to reduce victimization and to interfere with the ability of chronic offenders to commit crimes. DLP is a form of community policing that involves preemptive information sharing, patrols and investigations geared toward making it more difficult to harm Eugene residents and guests. For instance, in November, in response to an area's burglaries, EPD put patrol and investigations resources in the area. The Crime Prevention Unit went door-to-door to provide information to residents and hosted neighborhood meetings. The media was brought in to publicize the issue. An arrest was made of three prolific property crime offenders when a Neighborhood Watch member called to report subjects, on bikes, carrying backpacks, and acting suspicious in his neighborhood. The NW member heard information about the crime trends and the importance of reporting via information being disseminated by the Crime Prevention Unit. The two subjects had just committed a burglary, when the witness called in. The suspects were subsequently tied to several other incidents.

Abatement - Another strategy used when a particular home becomes a neighborhood crime hub and danger is abatement. In 2012, the City and its police department used a state nuisance abatement law to help intervene for a neighborhood where a home on Alva Park Drive in west Eugene had become a haven for people involved in drugs and other crimes. The house had drawn police intervention or visits about 100 times within a four-year period. In February 2012, the owner was notified the home could be closed and reminded that people had been cited or arrested on drug charges in three separate cases.
More commonly, these types of situations occur with leased homes and once the owner is made aware of the problem, it is addressed and the process stops without having to abate the home. In fact the city sends out less than 10 letters annually to property owners advising them of the need to stop illegal activities or face abatement. Most often the owners comply quickly. Ultimately, in the Alva Park case, the problems continued and the City requested a court order under the state's abatement law that the owner leave the house empty for a year.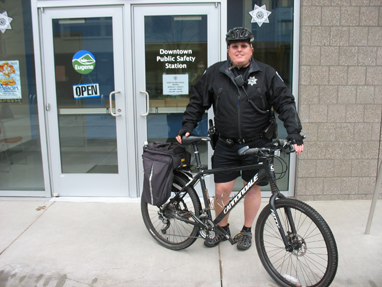 Downtown Safety There are many practical and innovative programs that have helped toward creating a downtown that we can be proud of and that invites visitors and commerce. The Downtown patrol team was fully staffed from only two in 2008 to nine in 2012. This is a fully engaged, mature and professional team with an excellent, seasoned sergeant. Based on results from other successful cities and on our recent experiences, we know that the mere presence of our uniformed officers in public places where crime is concentrated, reduces crime, as do some of the other tools for making the area inclusive, inviting, healthy and safe for everyone. We had and incredible, vibrant and fun Summer in the City program that continued this year. It was inviting and offered people a chance to enjoy downtown arts and entertainment. Up ahead, there will be changes, including to the status of the Downtown Public Safety Zone.
ParkWatch
Like downtown, our parks are a precious part of our environment. ParkWatch is a City and community-designed effort to help increase safety in Eugene City Parks and recreation facilities, and surrounding neighborhoods. Collaboration between the community and City departments encourages participation and empowers City and community members to reduce crime and the fear of crime. Eugene Police actively worked with Eugene Parks and Open Space, Eugene Library, Recreation and Cultural Services, Eugene Public Works Maintenance, and Eugene community members on the new program. Efforts will include providing:
Online reporting and sharing of information regarding problems in parks
Visible EPD patrols with sworn and non-sworn assets
Increased presence of City staff in areas needing attention
Public events where pro-social activities are needed to stimulate positive behavior in parks, and
Continuous improvement of Eugene City Parks and Recreation Facilities, leading to increased confidence and use of public spaces and amenities.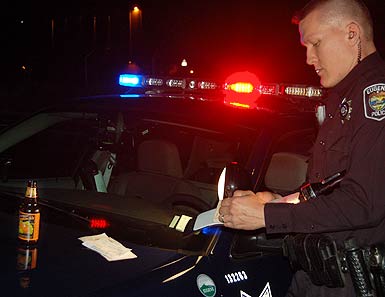 Social host - Work toward a new ordinance on Unruly Gatherings - also known as the Social Host Ordinance – began in 2012, to be passed into law by the Eugene City Council on January 28, 2013. The law is intended to hold individuals criminally responsible for hosting, organizing and allowing an unruly event or social gathering. Property owners where the event is hosted will also be penalized if there are multiple violations of this ordinance at the same property.
Oversize, disorderly gatherings and parties involving alcohol have been a continuing problem for Eugene, and particularly around the University area neighborhoods. These events can disturb neighbors' peace, damage property, create unsafe conditions, tend to attract criminal conduct, and necessitate costly police response. The number of loud party complaints received by the city and criminal citations issued for noise and alcohol-related violations are trending steadily upward, indicating that existing laws have not been effective deterrents.
The Ordinance on Unruly Gatherings does not target a particular group of people and applies equally to all, regardless of where one lives in the City. For more information: http://www.eugene-or.gov/index.aspx?NID=2373
Criminal Gang Prevention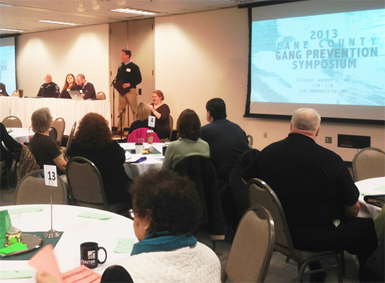 The Eugene Police Department has identified a gang member from more than 180 different gang sets here in Lane County and more than 50 gang sets. Some of the local gang sets have close and continual contact with their parent chapters in other states. Gang members are recruiting new members in their early teens. Criminal acts by gang members appear to be increasing. More than 200 local gang members have received prison terms in the last five years. Most received sentences for violent acts. The use of firearms by local gang members appears to be increasing. In 2012, we were able to intervene before a shooting between two rival gangs, and initiated a community-led effort to address gang prevention. The new effort Lane County Gang Prevention is developing a set of symposiums to move sort myth from fact, and address stereotypes, discuss what works in other communities and to create a plan to solve the gang problem in our area. Symposiums were planned for January 12 and April 27, 2013.