Progress
9-1-1 Expands Service Area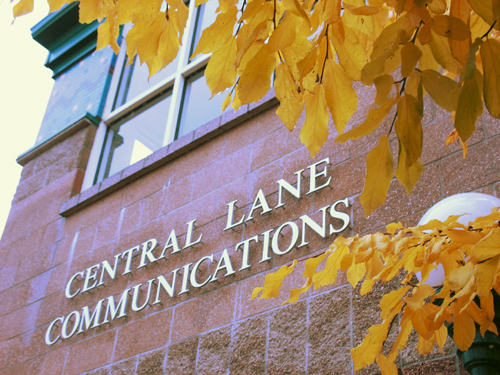 Thursday, March 1, 2012, at 05:42 hours, Central Lane 9-1-1 assumed responsibility for answering 9-1-1 calls for the eastern portion of Lane County.  Considerable preparation went into ensuring seamless emergency call answering during the transition.  The City of Oakridge website now has a prominent link "How to Use 9-1-1" that will take the reader directly to the Central Lane website page with information about what questions to expect to be asked, as well as how wireless 9-1-1 calls work in our area. Much of this new service area includes the Willamette National Forest. Staff are prepared to take all calls, whether in the wilderness or in downtown Oakridge.  The new population served: 322,877.
New, Convenient Online Crime Reporting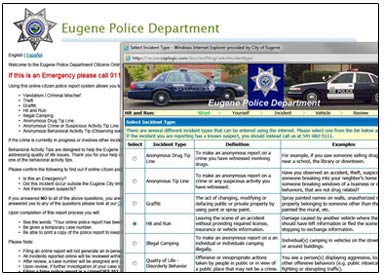 The public's use of EPD's online coplogic system has  more than tripled since 2010. EPD's online police report system allows you to submit a report immediately for incidents like: Vandalism/Criminal Mischief, Theft, Graffiti, Hit and Run, Illegal Camping, and Anonymous Tips regarding Drugs, Crime, Suspicious Activity and Behavioral Activity. In 2010, Eugene residents used the Coplogic software system to self-report 559 crimes. By 2012, there were 1,870 self-reported crimes. Currently EPD is working to develop a way to self-report several types of ID Thefts. 
Exciting Technology on the Horizon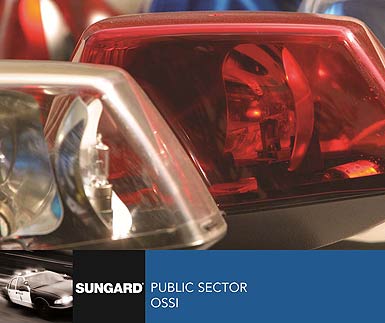 In November 2012, the contract with SunGard for the new RMS/CAD system was signed by the City of Eugene. This is a major milestone and achievement for the Cities of Eugene and Springfield. SunGard is the new public safety system that will replace the mainframe system with a new system that has the latest functionality. The system should provide: streamlined business processes; support of Data-Led Policing; tools to improve Police efficiency and effectiveness; elimination of duplicate and manual entry; ease of use; and the ability to take advantage of future policing and technology trends.
New Home for EPD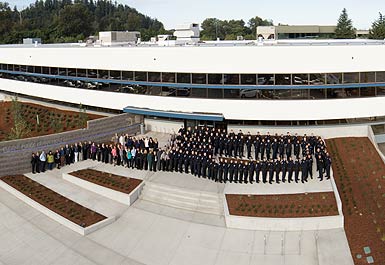 EPD is thankful to be in new headquarters building at 300 Country Club. After more than two years of planning, design and construction, EPD moved in during August 2012. Not only is the building safer, it is an inviting place for community members who have been sharing their positive comments about the new location, the lobby and convenient parking. EPD was able, with the more spacious and efficient layout of functions, to consolidate most services into one building, which makes for greater communication and a better service delivery. There is also improved efficiency and lower operating and maintenance costs from the new HVAC system, decreased water usage from the installation of low-flow plumbing fixtures and native plants outside. This building is a great advance for our community and for our police department. The number of people visiting the department remains as steady as it was at the downtown location.
City Adds Police Substation Downtown at 960 Olive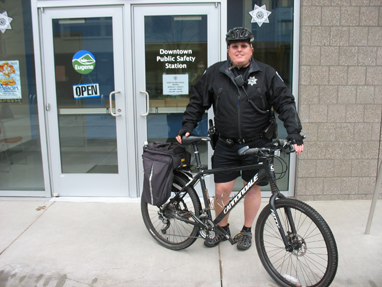 Part of EPD's move to 300 Country Club included enhancing police presence in Eugene's downtown core. The City has now added a Police substation in  leased space at 960 Olive, in LCC's new building. EPD's Downtown Team, sergeant and a program manager will operate from the location. The station gives the Downtown police team a place to work from, where they can respond quickly to downtown issues and to provide a greater presence in the city's core. Officers will more easily be able to remain in their beat during their shifts, and other officers can use the station to prepare reports and conduct some processing of arrested subjects. While the station will not have a full-time front counter presence, staff can take basic walk-in police reports and better serve the downtown area residents, businesses and visitors. The substation will open Mondays through Fridays from 9 a.m. to noon, and 1 p.m. to 5 p.m.
Animal Services Joins EPD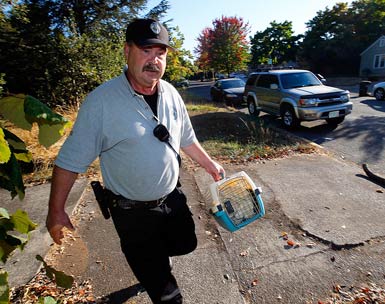 July 1, the City started a contract for shelter and adoption services with Greenhill. Lane County and Springfield have similar contracts with the agency. Greenhill is operating the shelter at 3970 W. 1st Avenue (formerly LCAS Animal Shelter). Our two new animal welfare officers also began service. They will return lost dogs to their owners, address animal abuse and neglect, and enforce licensing and leash laws. Both animal welfare officers are equipped with new technology to help them send and receive information more efficiently from the field, which is expected to increase the number of animals returned home without entering the shelter. Central Lane 9-1-1 handles all incoming calls regarding enforcement and dispatching Eugene's animal welfare officers in the field. Licenses are available for purchase at several locations including veterinarian offices, public shelter and at the City Spay/Neuter Clinic; and outreach is ongoing. Local veterinary offices are now selling City of Eugene dog licenses. Licenses were hand delivered to each vet clinic and an in-person overview of the new program was provided. At the 1st Avenue Public Shelter, on the first day of operations, there were 48 animals present in the shelter. Since that time, the flow of animals and people has been steady, and the shelter reports community members and animals needing sheltering service have not had a break in service. Even on the days they are closed, Greenhill has been able to re-unite pets and their owners. In addition to dog licensing, there is a voluntary cat registration program in Eugene. An owner may register and microchip a fertile cat for 8$ and a cat that has been spayed or neutered for $5. Registrations can currently be purchased at the 1st Avenue Shelter. This is another area the program expects to see future growth. The website for Animal Services is
http://www.eugene-or.gov/animalservices